Vogue kept 'hope' as its theme for its September issues all over the world. In chaotic times like these, all we are looking for is hope. Hitting on the right nerve, Vogue delivered it successfully this time. But, the Vogue Korea September 2020 issue was different from the others. Do you know how? Photographer Seo Young-hee decided to celebrate age in all its beauty.
While beauty standards and trends keep changing, we believe aging is something that remains constant and eternal. The editorial spread of Vogue Korea proved it by featuring 100 years old women in their issue. Min Hyunwoo, a popular South Korean photographer, gave us a wholesome set of photos with adorable faces of these grandmas.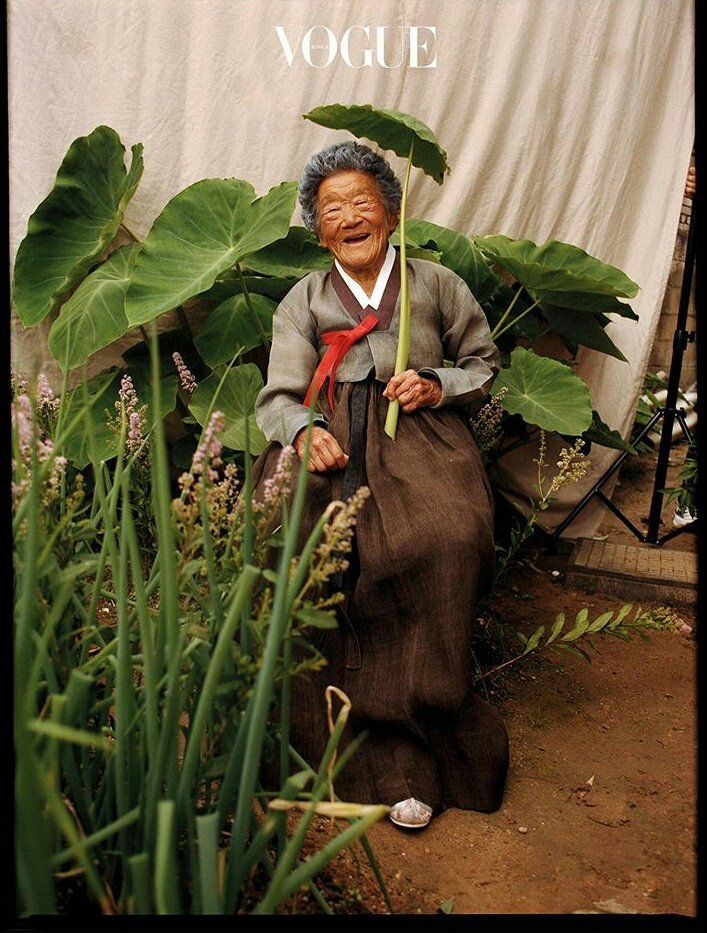 Grandmas? No. Models? Yes!
Ready to get all the warm and fuzzy feels? Check out the cute grandmas who gave their best for the Vogue Korea September 2020 issue. Filled with sunshine and smiles, these photos are a refreshing change we can see in the magazine spread. Especially with everything going around, this issue felt like a breath of fresh air.
Accustomed to watching young models and celebs in fashion magazines, seeing women over 100 years old gracing the magazine brought smiles to our faces. Their effortless ways captured our attention in more ways than one.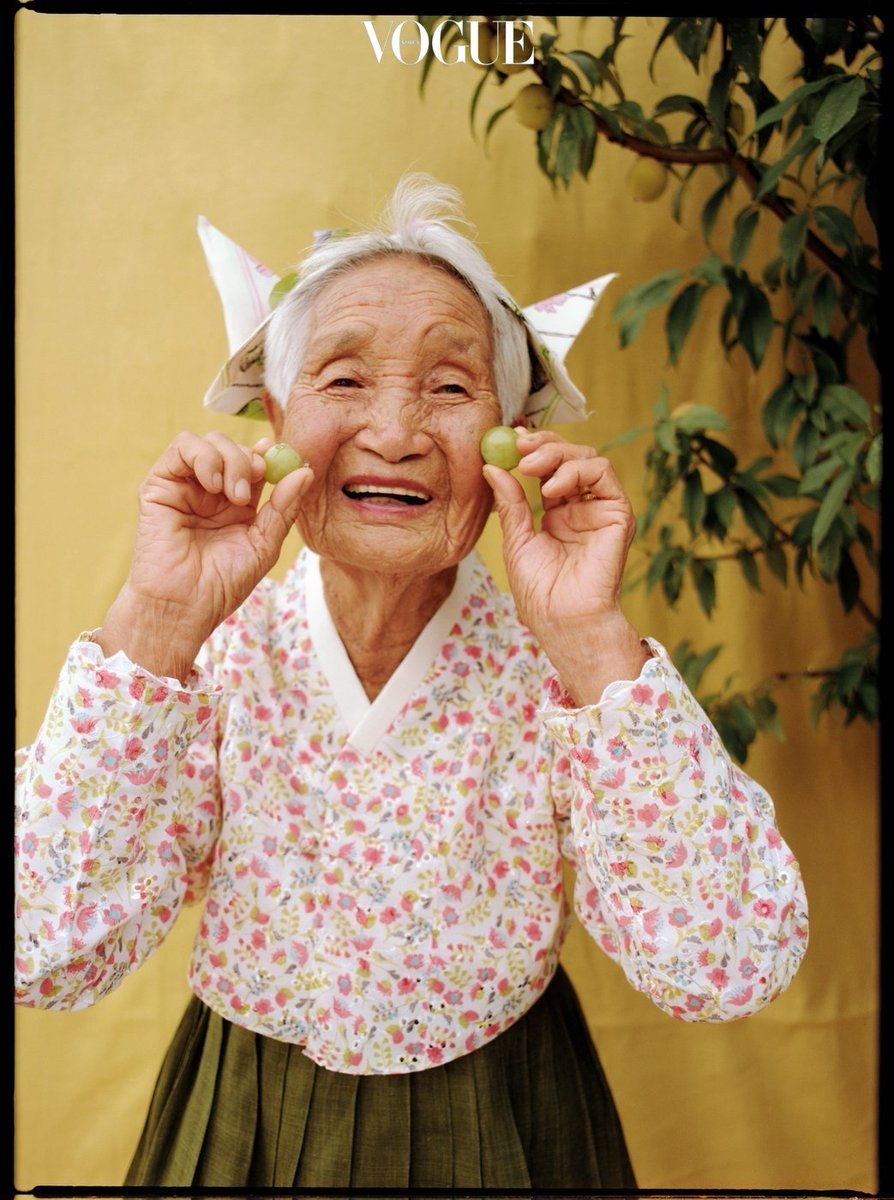 "As Beautiful as a Flower"
The name of the story was 'My grandmother who is as beautiful as a flower'. We learn about the grandmas' lives and their likes. One of them tells Hyunwoo how they love origami. Moreover, they also spill secrets to their long life. The grandma in yellow tells us she loves steady walking and staying updated with current news.Vogue Korea showed us women in all their glory with wrinkles and lines. They are seen wearing hanbok, traditional Korean clothing. Women's hanbok consists of a jeogori, a fitted jacket on top. Below, they wear a chima, which is basically a wide skirt. Hanbok traces back to the Three Kingdoms of Korea period.
It is now mostly worn on special occasions now in Korea, such as weddings. We see glimpses of colorful floral jeogori in these photos. Pairing the hanboks with a floral headpiece, the grandmas totally rocked the photos. We definitely need the confidence of these halmonis (grandma) in our life.
The Man Behind the Scenes — Min Hyunwoo
Sharing these photos on his Instagram account, Hyunwoo, the photographer, received positive feedback from all over the world for his Vogue Korea September 2020 issue. He was raised in a village known as Samcheok before he moved to Seoul. All the grandmas featured in this photoshoot aged between 96-106 years old. Interestingly enough, all of them reside in the countryside.
Hailing from the green and lush Jeolla province, they belong to Gurye, Damyang, Sunchang, and Gokseong. Giving us a break from the complicated lives we lead, these photographs capture the simplicity of these women beautifully. It's reminiscent of the warmth and twinkling eyes of our grandmothers.
Min Hyunwoo is known for capturing the beauty of his subjects as they have fun and embrace nature at the same time. Similarly, the Vogue Korea September 2020 issue has depicted the same. The reassuring smiles of these decked-up grandmas are truly inspiring. Some readers even became teary-eyed after watching these heartwarming photographs.
Conclusion
As the grandmas and their traditional attire get the much-needed spotlight they deserve, the message of hope is conveyed subtly. These old ladies with tons of experience and beaming smiles are assuring and comforting us. No matter how tough the world may seem right now, we can collectively come out of this. Follow Fashinza for more in the fashion space.