In the world of fashion, designers believe in bringing their ideas to life with the help of drawings. A fashion sketch is the first step towards creating beautifully designed garments. Fashion Design Drawings play a vital role in the designing and apparel-making industries. Designers use these drawings to communicate with other people about their ideas. These drawings act as an initial sketch which is later finalized by comparing different colors and patterns.
Types of Fashion Designs Drawings
Fashion Design Drawings are the best friends of a fashion designer. But these drawings have a lot of varieties. Some types of these drawings are-
1. Flat Sketch or Fashion Flat
Flat Sketches are also known as technical flats in the world of fashion. These sketches are linear 2-dimensional black and white illustrations of garments. The sketch is such that as if a garment is laying flat on a surface for display of its designs, stitching, and other detailing. These types of sketches are usually made using software programs.
2. Tech Sketch
Tech Sketch is a flat sketch with details of the particular specifications of the garment in written text. These sketches are also known as callouts. Tech Sketches are mostly used by fashion designers or fashion illustrators to represent a design more precisely with detailed explanations.
3. Spec 
Spec or specification is a type of fashion design drawing which is usually used for the manufacturing of apparel. These drawings include a lot of detailing of the garment like the type of fabrics used, the estimated cost of production, etc. 
4. Working Drawing
These types of fashion drawings are used by pattern makers. These drawings contain all the specifications needed by the pattern maker to make the pattern pieces like the fabric swatches and fasteners used.
5. Presentation Drawing
Presentation Drawing is the final sketch of the garment which a fashion designer presents to the client or the senior designers.
6. Fashion Croquis
Fashion Croquis is the drawing of the figure of the apparel that can act as a template over which one can design the garment by tracing easily. 
Techniques of Fashion Designs Drawings
Fashion drawing is a skill, and can be learned or improved using a lot of techniques. Here are some useful techniques for you to improve your fashion drawing skills.
Understand Anatomy
To be good at fashion drawing it is vital to know how to draw anatomically correct proportions of a figure. A correct drawn figure allows the garment to look appealing on it. It will be easier for you to draw certain posed figures if you know how to draw them correctly.
Use Technology
Nowadays, with several advanced technologies in the market, every field is growing at a super-fast pace. In the fashion industry also there is a lot of software that can help you in beautifying your designs and illustrations. For example, a background of a lane or runway can be added while representing a design to the clients. This can give more clarity to the design idea like where it can be worn.
Make Patterns
Patterns can also tell a story on their own. They can make a simple fabric very interesting. Patterns are never going out of fashion. To design various beautiful fashion drawings try to add some touch of appealing patterns to it.
Hairstyles matter too 
With the figure shape and dress design, the hair of the figure also matters a lot. Learn how to illustrate different hairstyles based on hair textures and thickness. A figure can look more classy if an ideal hairstyle is illustrated with it.
Focus on the accessories too
In the fashion world, not even a small detailing is left out. Then how can we be careless with the accessories? Accessories also play a vital role in a figure representation of a garment. Choose the accessories wisely. The final look of your drawing should tell a story. Design it carefully and beautifully.
Examples of Fashion Design Drawings
Here are some examples for your reference. When we need a reference what's better than the best? Here we have some amazing fashion designs by some of the best fashion designers.
Christian Dior
Christian Dior does not need any introduction. He is no doubt one of the best fashion designers in the world. Dior is famous for designing dresses with flared-up waists. Take a look at this design by him.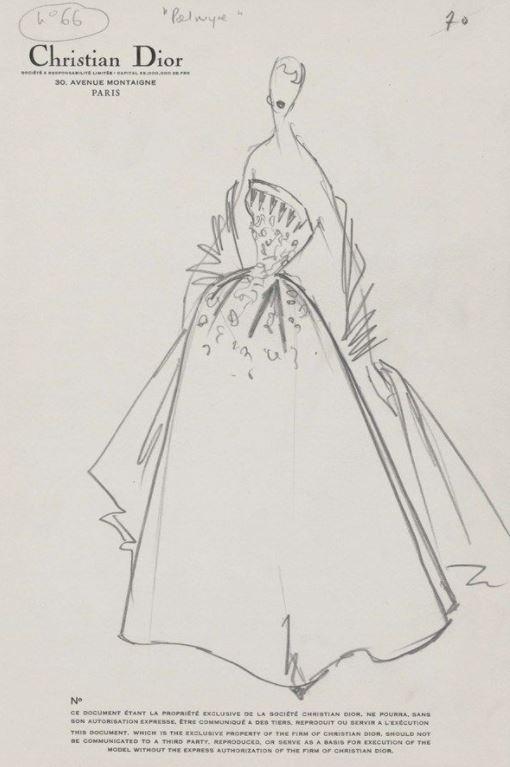 Christian Bérard
Famous for his unique fashion model drawings Christian Bérard is no doubt one of the best designers the fashion world has seen. His designs illuminate simplicity. One of the features of his fashion drawings is that he uses watercolors and curves in them. Curious? Have a look at one of his masterpieces.
Monique Lhuillier
Monique Lhuillier is a fashion designer famous for his red carpet gowns. Her designs are eye-catching and alluring. Her drawings usually show shadows and three-dimensional detailing. Here is a fashion drawing by her.
Elie Saab
Elie Saab is famous for his evening gowns and bridal wear. His designs are a fusion of western and eastern cultures. His sketches usually have gradients to show the volume of the fabric. Here is a design by him.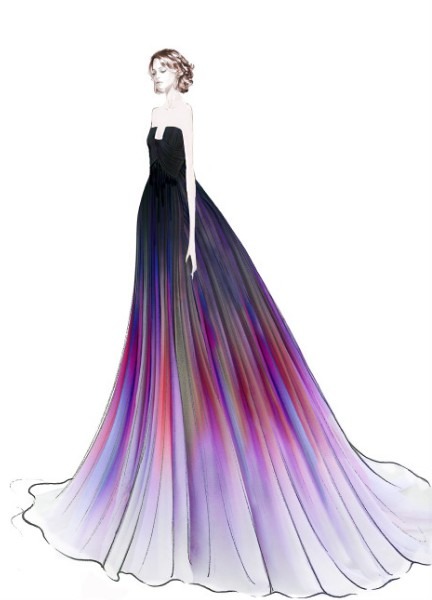 Givenchy
Givenchy is a French fashion house, where world-renowned designers like John Galliano work. This fashion house has introduced a lot of iconic designs and trends to the world. Here is a design by Givenchy.
Conclusion
Fashion Design Drawings, as you can see, introduces a person to the idea of what an outfit actually looks like, once executed on paper. These drawings are essential to present your ideas to the world. If you are a budding fashion designer, take time to understand the value of possessing drawing skills in the fashion world. To learn more, or find unique and beautifully designed fabrics at amazingly affordable prices, browse Fashinza.