With the always-changing fashion trends, designs, patterns, and technologies, it is almost impossible for fashion designers to stay abreast with the latest market dynamics. They need cutting-edge and handy technology that can help them in curating fashion-forward designs and patterns. It is where fashion designing apps come into the picture. 
Apps for designing clothes, illustrating, and pattern making can make workflow faster and more professional. The best part is that designers do not need a system or laptop to access these apps to design apparel. They can create impressive apparel designs anywhere and everywhere with their smartphones. These apps come with a friendly user interface and advanced design tools. So, here are the top 20 paid and free apps that are redefining the fashion industry in the 21st-century. 
Paid Apps
1. Adobe Illustrator
Adobe Illustrator is a revolutionary app that allows fashion and technical designers to create various printed and digital images. This app comes with a user-friendly interface that enables in-panel editing. Users can import photographs and trace objects given in them. It is a scalable app that works perfectly on any system.
2. Art Authority
Art and inspiration are an integral part of the fashion world. This app gives access to carefully selected, stunningly displayed, and well-organized insight into the western art world from the first creative ideas to the latest contemporary and modern works. It is a visual library that allows users to browse over 1,500 sculptures and over 10,000 paintings. Designers can take inspiration from these artistic ideas and incorporate them into their clothing line.
3. Pret-A-Template
It is a digital sketchbook. It offers a wide range of fashion-related templates like accessories, garments, bodies, and shoes. It allows designers to make sketches with an advanced set of fabric patterns, realistic brushes, and custom color palettes. This app has all the powerful tools fashion professionals need to unleash their creativity. 
4. Repsketch
Fashion professionals who do not have time to make technical sketches from scratch can go for the Repsketch app. It is a brilliant app that allows users to customize and re-purpose existing illustrations. It is an easy-to-use app that makes sharing and exporting multiple-resolution files incredibly simple. 
5. CLO 3D
CLO 3D is a cutting-edge garment visualization app. It is a must-have app for designers that work on futuristic fashion trends. CLO 3D is a sustainable and creative landscape for the fashion industry that will fine-tune apparel designs and adjust patterns in real-time. 
6. Techpacker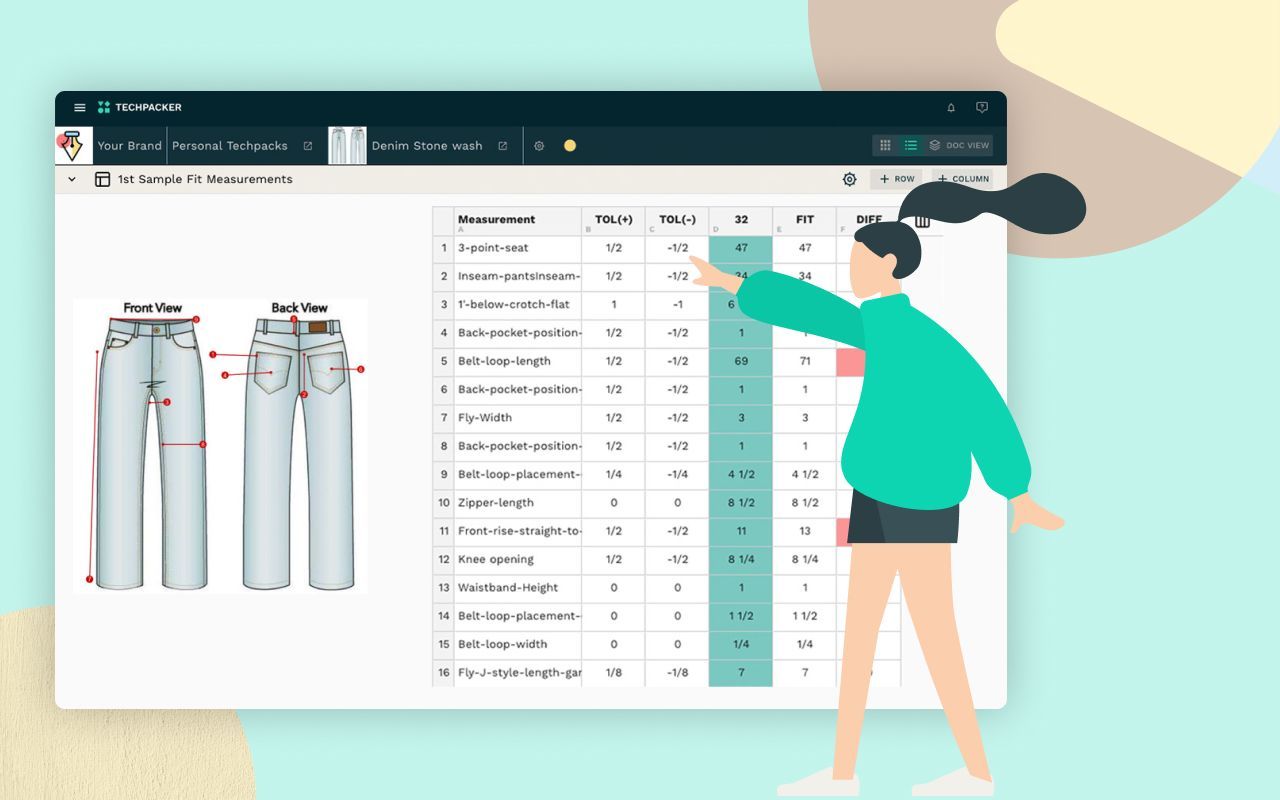 It is an advanced web application that allows fashion designers and their teams to work together efficiently. Designers can sketch their prototypes and share them with the manufacturers instantly. It also helps in getting run reports, real-time status updates, and staying on schedule. 
7. Zapier and Workflow
Designers can now automate their repetitive tasks by connecting two or more apps through Zapier. An advanced online automation tool that simplifies tasks by asking the connected apps to perform actions per the user's instructions. Similarly, Workflow allows the labels to automate their mundane processes. It connects over 750 web pages to help designers create workflows and focus on core business activities.  
8. MeetUp
Designers have hundreds of clothing ideas. But are unsure how consumers will respond. Therefore, designers need the confidence to bring those designs to life. It is where MeetUp comes into play. It is a revolutionary app that allows designers to organize virtual meetups with potential customers and seek their ideas. 
Free Apps
1. Vogue Runway
Fashion designers require inspiration to create new designs. Vogue Runway can be their one-stop destination for this. It offers peerless fashion coverage and unrestricted access to runway fashion shows around the globe. It is an extensive resource of over 12,000 fashion collections, with over 1 million runway looks and 100 seasons.
2. WGSN
Fashion designers need to understand how buyers feel, think, and behave. It is crucial to predict trends and design clothes accordingly. WGSN is a leading app that is an expert in forecasting trends backed with data science. With expertly curated stats, buyer insight, and trading strategies, WGSN assists users in creating the best apparel designs and patterns. 
3. Higg Co
Higg is a cohesive software platform that helps professionals take control of raw materials, products, stores, factories, energies, and working conditions. The Higg Materials Sustainability Index allows fashion labels to create apparel by understanding their impact on the environment. 
4. Valentina
Valentina is a boon for beginners who want to learn more about patterns, color palettes, and styles. It is a pattern-drafting app that helps in designing affordable and viable apparel designs. It comes with over 50 pattern-making options based on mathematical formulas.
5. Blender 
Blender is a 3D fashion design tool that makes creating, designing, and editing sketches easier. It comes with advanced rendering cycles. It also offers features like motion blur, lighting, volumes geometry, and shading. Pre-visualisation, rigging, simulation, and modeling are some other features of Blender.
6. Tailornova
Fashion designers who want to create designs hassle-free and quickly should use Tailornova. It is a groundbreaking app that allows users to create patterns and sketches with a few clicks. Some of its salient features are 3D garment simulation, automated pattern measurements, sewing instructions, vector 2D flat sketches, and e-commerce integration. 
7. Browzwear
It is a 3D fashion design app perfect for creative developers, designers, marketers, and production professionals. Automatic fabric analyzer, 2D CAD, powerful dashboard, true-to-life 3D simulation, and Vstitcher are some of Browzwear's top features. 
8. Digital Fashion Pro
Creating attractive and creative garment designs becomes easier with Digital Fashion Pro. It is a great app that offers customizable clothing templates, CAD tools, design export, and 3D design models. 
9. Sketch
It is an excellent tool for novice designers aiming to mark their presence in the competition. A perfect platform to hone their designing skills and even make some income. This app comes with an outstanding vector editor, an integrated prototyping option, and stunning plugins. 
10. Fashtory
It is one of the best design apps for iOS and Android users. This app allows designers to connect with fashion followers around the world to identify the latest fashion trends. The best is, users can bookmark their favorite designs, stores, and designers for future reference. 
11. Cameo v5 Apparel 
Cameo v5 Apparel is an advanced app that offers a wide range of technical drawing tools and lay markers. It helps designers in creating customized and standardized apparel. Many leading labels also use this app to make fashion portfolios and brochures.
12.CorelDRAW
CorelDRAW is a powerful image editing app that comes with an ML-powered tracing feature. This technically high-end vector graphic app offers a variety of tools to create impressive art effects and pictures. From creating patterns and sketches to making geometric mannequins, you name it, and this app and do it. 
That's a wrap!
The list of apps for designing clothes is endless. Designers should select apps that can help them in creating trends and not just clothes. Moreover, they should also consider the subscription cost before picking the right app. Experts consider these apps as an investment that can yield lucrative returns eventually.  
Last but not least, fashion brands that are facing supplier-related issues should get in touch with Fashinza. It is a leading new generation supply chain and product development platform that creates futuristic and sustainable supply chains for top fashion brands. Connect with them today for more details.