Squid Game Fashion Trends
The Netflix TV drama Squid Game has taken the world by storm. The South Korean drama has drawn rave reviews from critics (92% rating on Rotten Tomatoes) and captivated audiences. Since its release last month, Squid Game has become the most-watched Netflix original show. Over 142 million households (as per Netflix figures) have watched Squid Game. Those numbers will continue to grow along with the hype around the show.
Squid Game has become the latest viral hit in what fashion writer Vanessa Friedman calls the "fashion-tainment complex." Like any creative IP, the show's limelight in the mainstream is limited. There is no telling when consumers will move on to the next Netflix craze. The writing on the wall is clear for fashion brands and manufacturers: get in on the Squid Game hype and put out merch while it lasts!
About Squid Game
What is Squid Game about? The show, based in South Korea, is centered around characters who are in debt. These characters must compete in various children's games to win the grand cash prize. Victory means freedom from debt; loss means certain death. You may have heard of The Hunger Games starring Jennifer Lawrence. Squid Game falls in the same genre of survival drama.
Rule I: Keep it Simple
Let's talk about the look of Squid Game. We at Fashinza have watched the first few episodes so be warned: Squid Game is violent, shocking and gripping! The show is NOT for the faint of heart. Regardless, fashion brands should watch Squid Game to get a stylistic feel of the show.
When it comes to making Squid Game merch, the basic rule is to keep it simple. The show is about the class struggles of Koreans. Thus, the dresses in Squid Game are very minimalistic and retro in nature (more on that later).
Rule II: Authenticity Matters
Consumers care about the authenticity of costumes they purchase. This is especially the case for those who engage in cosplay. Aim for making your Squid Game themed costume as authentic (i.e., similar) as possible. This will make consumers more willing to buy your product.
Halloween is around the corner and Squid Game will undoubtedly be a topical costume theme. Even after Halloween ends, there will be Squid Game themed parties hosted for fans. Thus, consumers will either be purchasing Squid Game costumes wholesale or buying fabrics and materials to make the costumes themselves.
White Sneakers/Vans
On ecommerce platforms such as Lyst, white slip-on sneakers are seeing heavy search volumes (+145 percent). White Vans in particular are in demand because they are featured in the show.
Our take is that you should not just market "Squid Game themed shoes" alone. Consumers will likely want an entire costume set from a seller. Also, white sneakers are too generic a product and there is too much competition in this category.
Track Suits & Boiler Suits (Squid Game Uniforms)
The track suits and boiler suits portrayed in the show are unique in nature. The tracksuits are green/teal in color with white stripes running halfway along the shoulders and the sides of the legs. Each tracksuit features a participant number on the left side of the chest. The numbers range from 1 to 456. You can easily create a design techpack for the tracksuits here for free!
The teal tracksuits are easier to make. On the other hand, the guard costumes are a bit more elaborate. Each guard in Squid Game wears a reddish-pink hazmat suit along with black gloves and shoes. Additionally, the guards wear a black fencing mask with a white circle, square or triangle on it.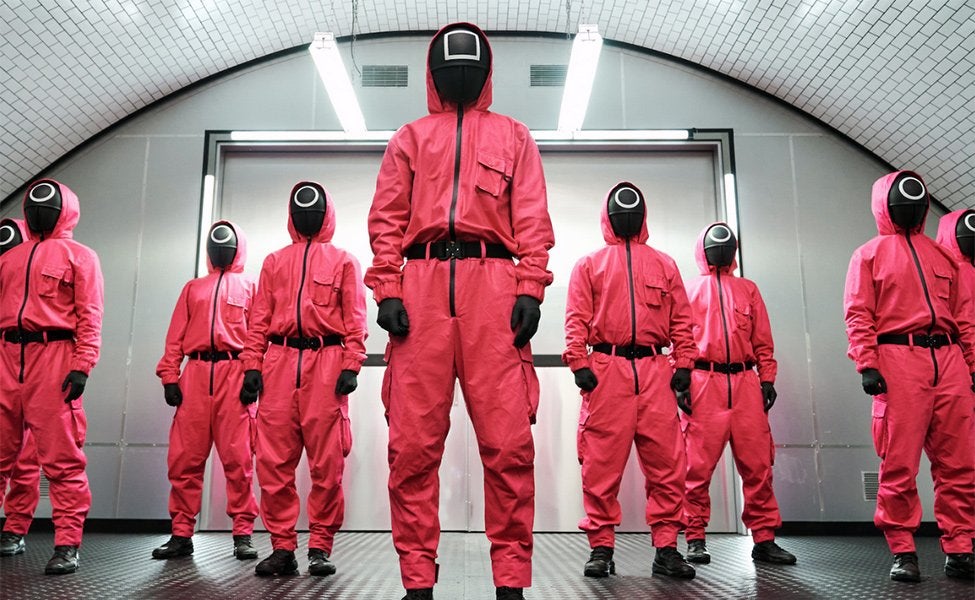 Wondering how to create the guard costumes? You can draw inspiration either from flight suits or protective suits worn by healthcare workers. Here is a techpack for a protective hazmat suit to get you started.
If you can make the tracksuits and hazmat suits correctly, expect heavy sales for your brand. In the days since Squid Game's release, online searches for teal (+130 per cent) tracksuits and red boiler suits (+62 percent) have exploded.
Robot Doll Schoolgirl Outfit
Not everyone will want to wear a participant or guard uniform. Some fans will undoubtedly want to dress as the infamous robot schoolgirl doll in the show. (We won't say anymore: this article will remain spoiler free!)
The schoolgirl outfit is simple to make. All you need is a yellow blouse with "a rounded flat collar" with an orange sleeveless short dress on top. You can finish off the costume set with long white stockings and black shoes.
If you need help with manufacturing these costumes, Fashinza can help! Visit this link and submit your queries/ requirements. Our team will get in touch with you with the answers in 24 hours.
Conclusion
By now, you have the information needed to make your Squid Game themed costumes. Since you came all the way with us to the end of this article, we'll offer you a wildcard to get started! Use code PLAYER456 when talking to our representative and you'll receive a free sample on your order! BUT there's a catch! Just like in Squid Game, only a limited few winners will be able to use the code! So hurry: send your enquiries asap to Fashinza.
Launch New Collection