Diana, Princess of Wales and How She Pioneered Seven Current Fashion Trends
Plenty of looks that were "in" during the 80s and 90s are slightly less today. However, someone whose fashion is still referred to even today has to be Princess Diana. Ahead of her time, she was also relied upon for outfit inspiration in the 21st century.
More women today are recreating her looks from yesteryears, and how! While many may associate royal fashion with fashion ball gowns and fashion tiaras, Princess Diana's outfits were always considered exquisite and unique. She was a style icon in her own right. Her style was a unique mix of polished and playful.
Her style inspires many current trending items. Athleisure might be new for gen Z individuals, but no one did it quite like Princess Diana back in the day. Numerous looks of her from the past are ripe for recreating.
So, why not recreate some of the latest trends that Princess D pioneered? Read on to know these fashion trends.
7 Current Fashion Trends Pioneered By Diana, Princess of Wales
1. Normcore
Normcore is a unisex fashion trend that looks usual but faintly stylised sense. It includes jeans, button-downs, caps, sweats, and t-shirts.
Long before this century's normcore announcement, Princess Diana was already elevating casual looks.
She would counterpoint the fascinators she wore for royal duty along with chic and rugged baseball caps. Her laidback outfits were notable then and are trending today. She was a champion of high-low dressing, again a notable trend today.
2. Polka Dots
In addition to experimenting with prints, Princess Diana also included pretty polka dots in her outfits. On a particular occasion, she sported a spotted skirt with ankle socks. It suggests that she wasn't afraid to go all out even back then.
Creating a matchy-matchy movement was her thing. She rocked everything with much ease, from polka dresses, polka socks to polka hats.
3. Overalls
Princess Diana never shied away from experimenting with outfits. Her affinity for wearing patterns, silhouettes, and colours that weren't typically royal family-friendly were criticised. And yet, without getting bogged down, she would wear whatever she wanted. A fashion Princess Diana trend that has made a comeback is overalls.
Also known as dungarees, overalls were initially designed to be worn over the wearer's clothes to protect them as they worked. Princess Diana experimented with them and made overalls truly her own.
4. Collars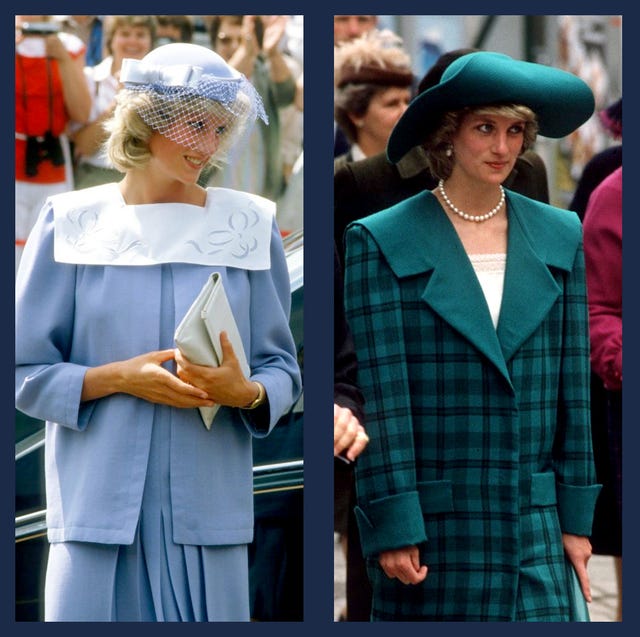 Diana had a unique affinity towards collars: pretty much every kind. She loved and experimented with pretty much every type. From ruffles, frills to the oversized ones, she rocked them all. In recent years, we've seen large collars resurface.
Every collar style has popped on shirts and dresses from nautical to the pilgrim. Super popular in the 80s, scalloped collars were a go-to for Diana. The sizable collar energy belongs to Princess D.
5. Printed Pants
Printed pants are super trendy in the warmer months of the year. A lesser-known fact for the younger generation is that Princess D used to rock such boldly patterned pants in the 80s and 90s? She wore eye-catching yet classic prints in many forms.
During a pose for a royal portrait, she wore hot pink gingham that grabbed everyone's eyeballs. Printed pants worn by anyone in the spring or summer bring an element of fun — whimsical while remaining timeless. It's not surprising that printed pants are in fashion even today.
6. Bike Shorts
Princess D was the epitome of chic and class even while stepping out from the gym or other outdoor activities. Many superstars today rock this modern-athleisure clothing while going for workouts. While many thought this 90s trend would never make a comeback, it did. And thank god for that. These shorts are comfortable, playful, and exceedingly vogue. 
In 2019 Hailey Bieber recreated Princess Diana's sporty bike shorts look for a Vogue Shoot. Princess D would pair colourful bike shorts with oversized graphic sweatshirts. She'd add sneakers to finish the look.
7. Puffy Sleeves
The 80s were about volume. From tops to bottoms, everything was voluminous. Not to forget the hair, of course. A trend from the 80s that's lighting todays' discussions is the balloon and puff-like sleeves.
And no one will be more thrilled by this news than Princess D herself. She was a pro at finding balance with puffy sleeves and was often spotted in oversized tops with slimmer bottoms.
Fashinza can help individuals recreate classic Princess Diana looks for their brand. They connect brands with the best manufacturers in the industry. By taking ownership of all tasks from design to delivery, Fashinza reduces the brand's stress. Moreover, they assure a reduction in sample approval time, sustainable fabrics, and easy transparency and quality check. Create the Princess D collection today with Fashinza. 
Conclusion
Princess Diana is fondly remembered for multiple things. Her beauty, resilience, and all her historic accomplishments, to name a few. However, she gets maximum love and adoration for the incredible outfits she inspired. Many vogue outfits today got rocked by Princess D decades back.
Many believed that she used fashion as an act of rebellion with secret messages. And what is fashion, if not a way to express ourselves? Princess D pioneered various fashion trends, from bike shorts and polka dresses to printed pants.
All the trends mentioned above are testament that she was indeed a fashion icon. She could effortlessly carry both formal and casual looks. Many brands today are offering collections inspired by Princess Diana's yesteryear looks.
Fashinza can help both bigger and smaller fashion brands source fabric from the best manufacturers. They personally verify each clothing supplier while maintaining communication with the customers.
Launch New Collection